An employee's onboarding is a sensitive process. The first steps and good preparation of the work environment, equipment or documents determine the first impression to the new employee. Aptien takes care of the communication process between employer and employee from the very beginning.
How to ease an employee onboarding
The onboarding of an employee and the process of handing over work tools, getting acquainted with colleagues and the workplace, and dealing with all formalities, paperwork, and obligations must be handled with minimal administrative effort. Aptien will help you create an overview of everything that needs to be prepared so that everything is handed over to him/her correctly and he/she can quickly join the work process. In particular:

Handover of work tools and equipment
Handover of personnel materials and documentation
Completion of mandatory paperwork

Familiarizing the worker with working procedures and rules
Training the new employee
Introducing the worker to the team and adapting him/her in the first days and months
Automation of employee onboarding
The onboarding of a new employee is one of the processes that HR professionals often have to deal with, here their work can be simplified through automation. There are many activities to plan, coordinate and resolve during onboarding. From preparing documentation to issuing job aids.
Automation in Aptien can support both the planning part of these activities as well as their confirmation.
Plan of onboarding activities when the employee starts
Create a list of activities that need to be carried out in connection with the onboarding of a new person. These are activities that you need to do before the new hire starts, such as preparing all documentation, preparing the workplace, etc. These are also the activities that you or the employee must carry out on the day of joining and in the first few days or weeks of his/her adaptation to the company.
You then create each activity in your employee records
Use the default list of onboarding activities for new employees, which you can easily customize to meet the needs of each position in your company.
Pre-onboarding activities, i.e. everything you need to do and prepare before they start
onboarding activities that must take place in the first days and weeks after the employee starts
Onboarding activities are basically set up individually for each employee. You set up each activity in one of three ways:
individual activities for the selected employee only
onboarding activities for all employees in the selected position
onboarding activities for all employees
Onboarding activities are typically set up as one-time activities.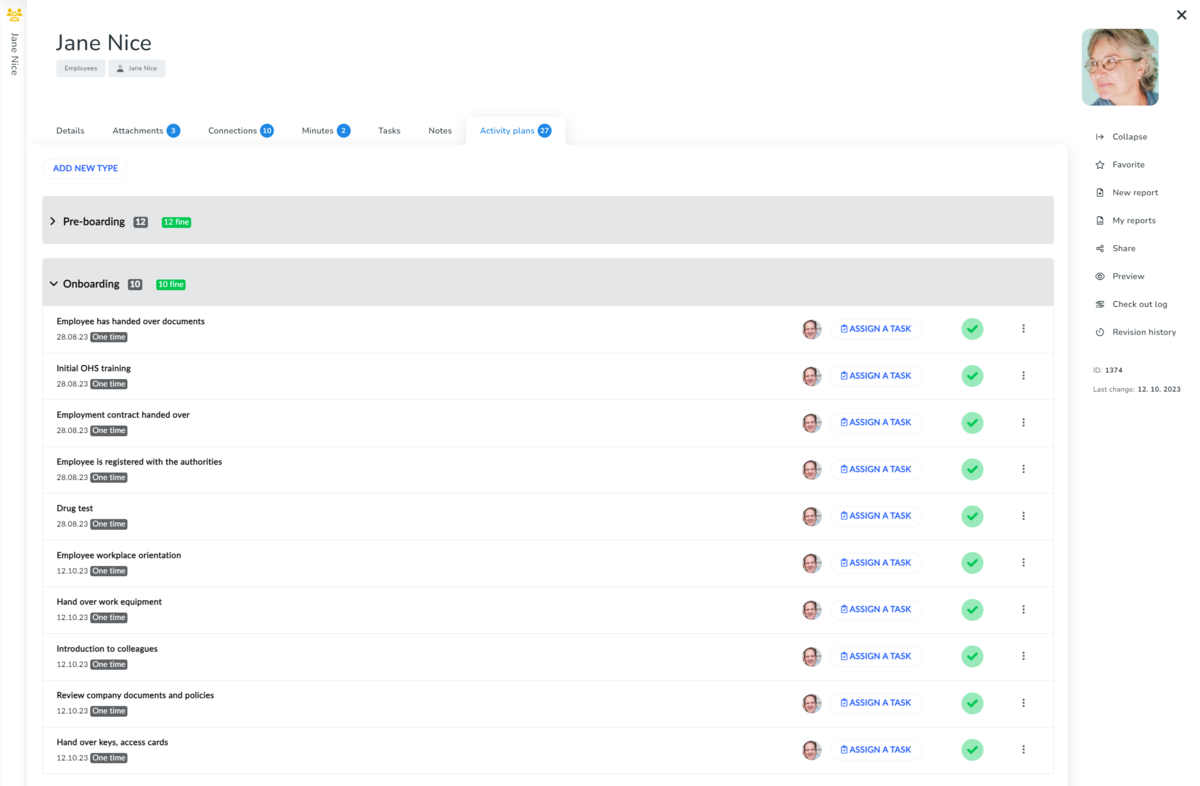 Confirmation of the activities carried out when the employee joins
Once the activity is complete, you confirm its completion. When confirming, you enter the date, comment and, if the confirmation and situation require it, you also attach an attachment, such as a scan of a document, handover form, etc.
Issuing of work aids
At the start of each employment relationship, you hand over various work tools and equipment, keys, access cards or even passwords and system accesses to the new employee. All of this can be handled in Aptien using digital or printed handover protocols.
Employee training and familiarization with documents
If you need to train or familiarize a new employee with company documents, work procedures or, for example, manuals with instructions on how to operate machines, you use document familiarization and guidelines.