Familiarity with directives, standards, or work procedures is easily accessible to all users in the system using the policies function. They just need to have this option enabled for their role. Familiarization works for all types of regulations and documents that you maintain in your company. All users work within their user accounts, under which the system uniquely records the familiarization.
Where you can find the tab with the policies
The Policies tab is available to both office and intranet users and and is found in the left menu. When clicked, you will see, as a user, the documents are divided into two tabs. "Documents to read or learn" and "Done". In the former, you will see all the documents you are required to familiarize yourself with. In the second, you will see all the documents you have already familiarized yourself with.
Familiarization with directives and work procedures is available to all users in the system. It works for any regulations, guidelines, work instructions, standards or any other document that your company maintains and needs employees to be familiar with. As an employee, you have all the documents here that your job title requires you to know.
If you do not see the policies tab, the administrator in your company has not enabled it.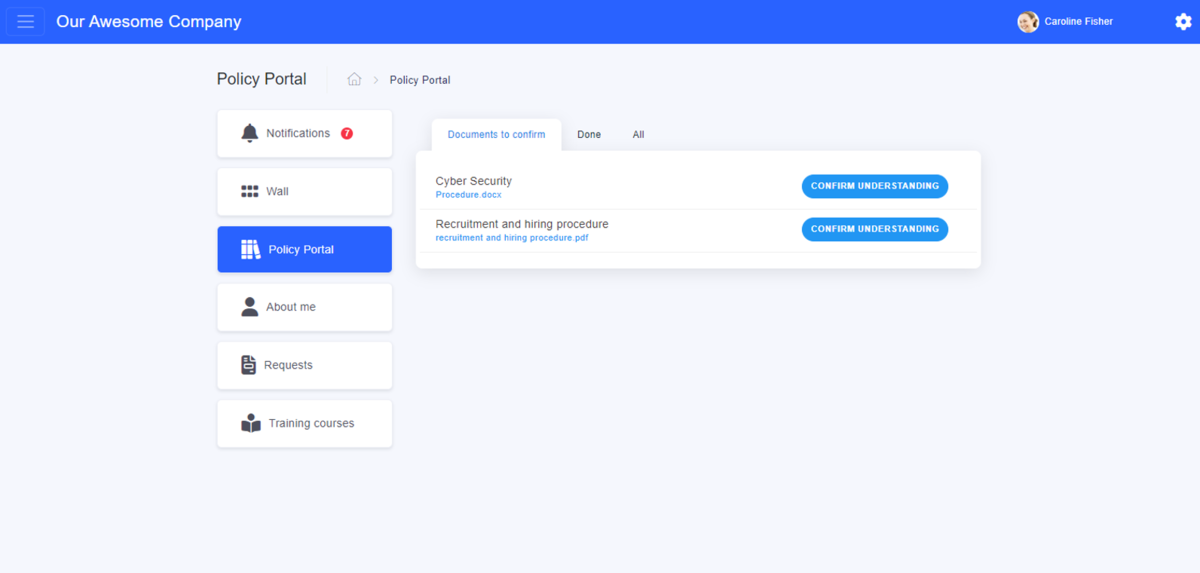 How to familiarize yourself with documents
The list of documents to familiarize yourself with is based on your job title and your job duties and is set by the policy manager.
How to confirm your familiarization with a document (directive, work procedure, manual, or standard)
In the policies tab, you can see the name of the directive. Clicking on it will open the option to read it online
Open and read the document
Click the "Confirm understanding" button to confirm your familiarity with the directive
If there is a new directive in the system that requires your familiarization, you will receive a notification in your email. The next time you open the application, you can go straight to policies to familiarize yourself with the directive.