Employees are the foundation of your HR

Employee records are intended for HR and management and are usually inaccessible to ordinary employees because they contain personal data. Other employees only see their colleagues in the Employee directory. Employee records serve as one central place where you have all the information you need about the employees in your company. Each employee can then see information about themselves in their self-service.
We recommend going through the HR Manager's First Steps guide.
In the Employees organizer, you keep all the information about your employees. Each person in your company has a personal employee card, which contains all their personal and contact details, their employment contract, their job equipment, their financial assessment, their salary progression, their benefits, their training, their identity or health information and any other related information you need to keep on your employees. You also have information relevant to their onboarding, company life and termination. Also included is a job description or their job classification.
HR manager's can add new employees or anyone else if the administrator gives them permission to do so.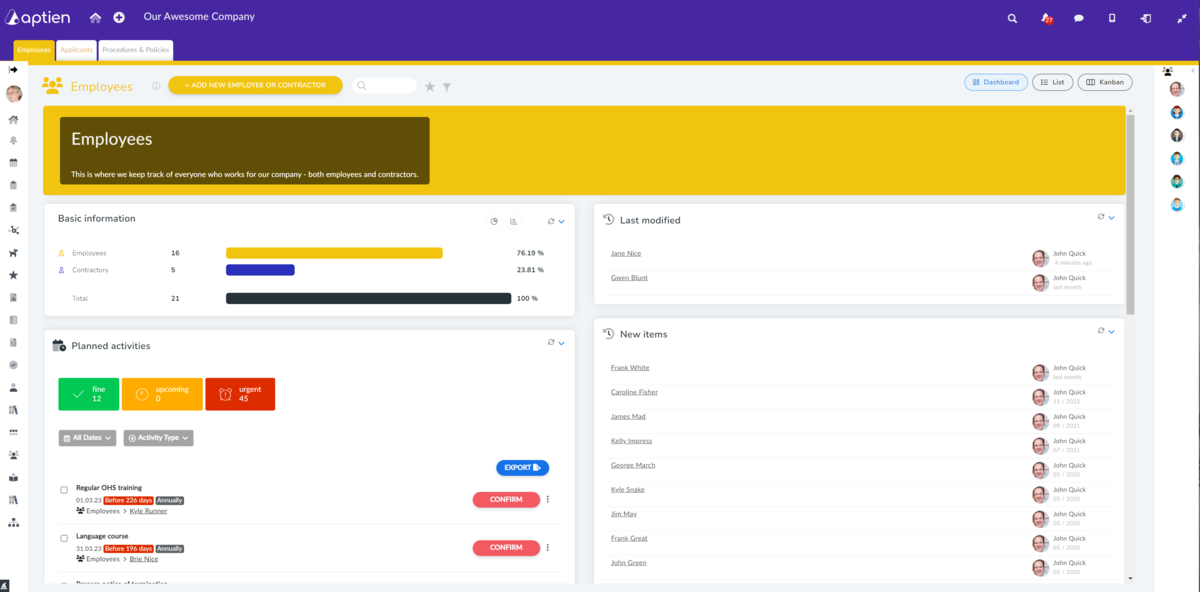 Employee's personnel card and other information
Employee records serve as one central place where you have all the information you need about your employees. Only you as the HR manager can see this information. Each employee can see their own information in their self-service record. They can also edit selected basic information themselves and you will be notified of this. This simplifies the entire communication process between the employee and the company.
The employee's personnel card is organized so that you have everything essential about the employee in one place. If the information you keep is not enough, it can be easily expanded. Access to specific data is restricted by access rights, so only you as HR can work with it. If the company needs it, the management or payroll accountants, for example, can also get access to HR.
The employee's personnel card contains the basic personal data required
Employee contact details
Personal details including residence, insurance companies, and other necessary information for payroll accountants such as health insurance or account number for sending payroll
Information about the job, its description, job title, and other information
Employee's work equipment, where you keep track of what the employee has been given
Wage, remuneration, and employment contract information, you can attach the employment contract, its attachments, and amendments
Information on qualifications, education, and career history
Details of the employee's health, medical examinations, and work restrictions
Details of the employee's identity
Records of medical examinations
Other personal documents
Staff appointment tracking and other HR administration
Maintaining employee personnel records - all necessary employee personal data from onboarding, prior to necessary HR administration to employee departure
Keeping track of personnel appointments such as medical examinations and other permits, certificates or certifications
Possibility of attaching the employment contract, its annexes and amendments
Records of employee interviews
Keeping personal notes on employees
Any other employee information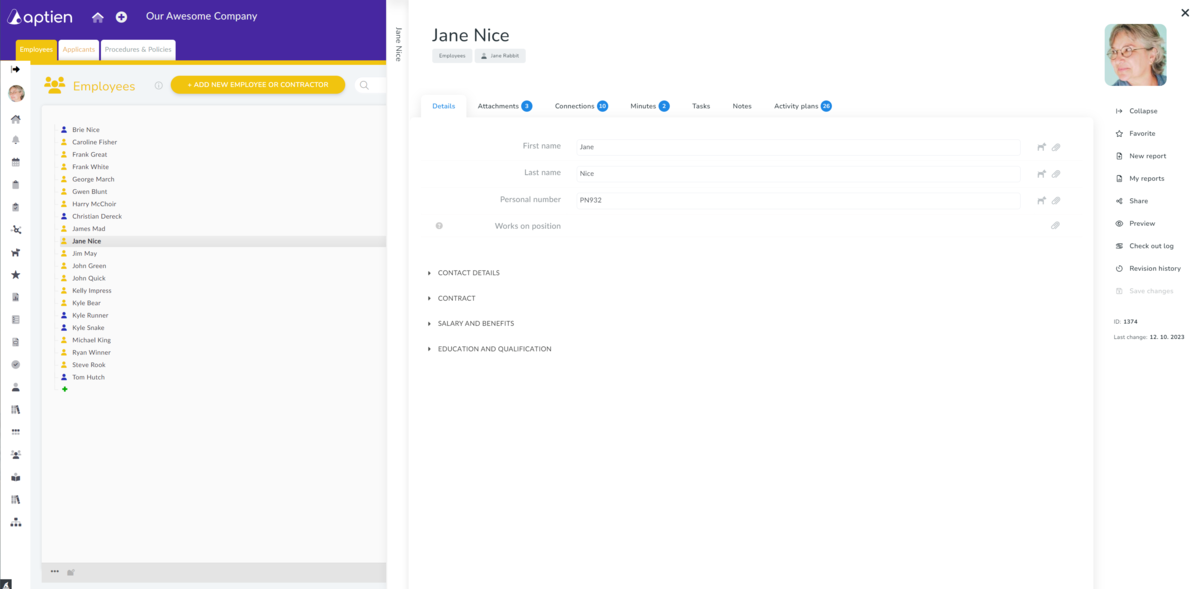 How to plan activities around employees
You can use the Activity Plans tab to plan and confirm one-time or recurring activities around employees, such as onboarding, termination, or employee development and training.
Onboarding



Training activities and personal development
Offboarding
How to add or remove access to the Employees organizer
If you need to give or withdraw access to the Employees organizer, you can do this through the role settings. Instructions on how to set permissions for employees can be found
here
.