Basic information for each applicant
This Organizer is accessible by HR Managers and the company's leadership. It is not accessible by other users.
This Organizer is one of the most commonly used Organizers among HR Managers. It is similar to the "Employees" Organizer. You record information for each applicant: contact and personal details, qualification information, or meeting minutes from interviews. Everything regarding each applicant is in one place.
Applicant's contact details
Applicant's personal info
Education and qualification information and documents
Other documents like references
Recruitment documents
Share interview notes with managers and other experts. Everything is safe without the need to send these sensitive pieces of information via e-mail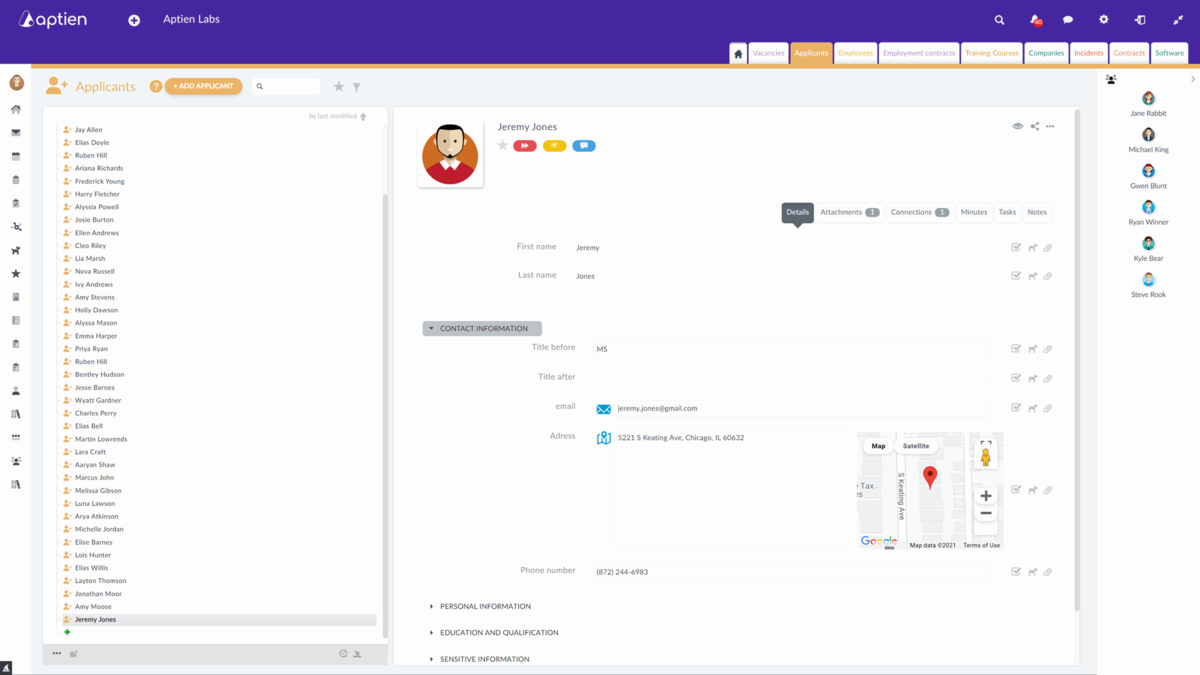 Records of interviews with applicants
When you interview a candidate, you make a record of the interview, which you create and store directly with the candidate. With the help of the notes, you can keep important information about each candidate and can, for example, also deal with the selection process. All securely in one place without having to send this sensitive information via email.
Whenever you need to, you can update and edit the information on the applicant card. In the minutes tab, you can see all the records of candidate interviews, whether created by you or by one of your colleagues who has access to the Applicants organizer. All transcripts are automatically attached to the candidate.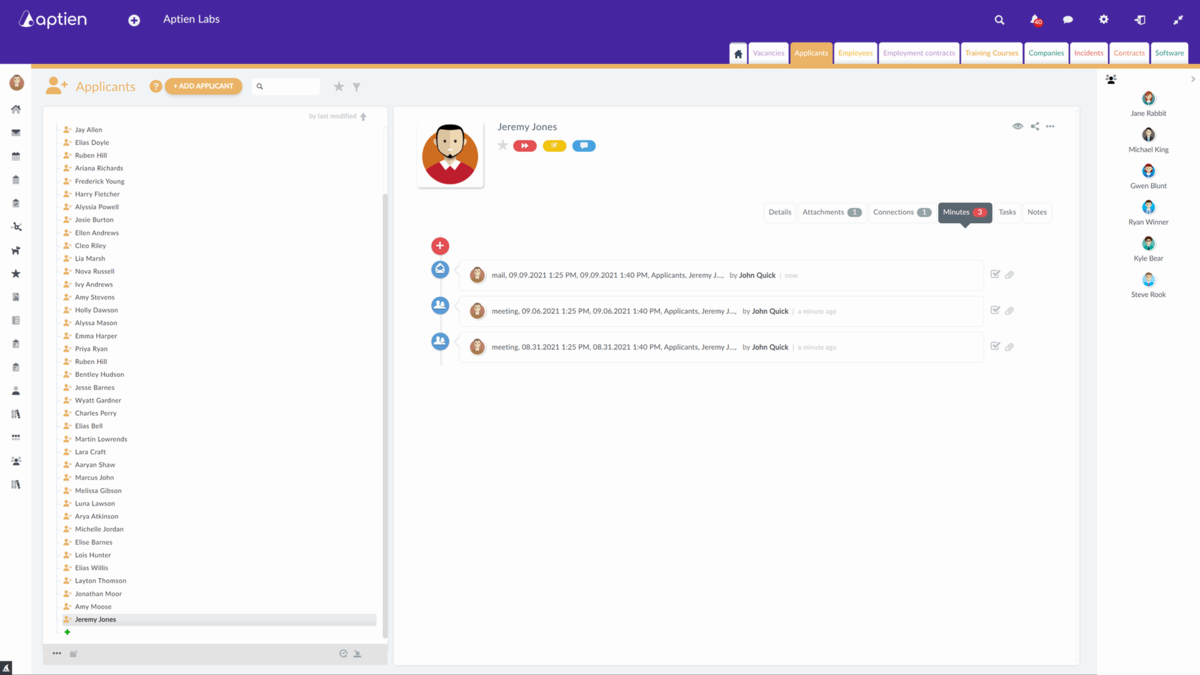 Notes and impressions from the interviews
If you want to make a private note about a candidate, you can use the private note: create one in the Notes tab. If you leave it private, no one else will see it. If you need to share notes from an interview with a candidate with managers and other specialists, you simply share it with specific people.
Applicants organizer will serve as a reliable database of all job candidates where you can keep everything you need in one place.
How to add a new applicant
To add a new applicant, click on the "Add an applicant" button. The system will ask you to fill in their first and last name and then create a new record in the applicant database. You will then be taken to the newly created applicant's tab and you will fill in any other necessary information you have and save the applicant's information once it has been checked.
How to archive or delete applicant records
You can archive or delete rejected applicants immediately after the application process has finished. To archive an applicant's record, select the applicant in the applicant overview (in the explorer) and right-click the "Move to archive" option. This will archive the applicants record. After a period of time that you specify, you delete the applicant's record. If your personal data policy states that you do not keep applicant records at all, you can delete the applicant record immediately. The procedure is similar to archiving, but instead of selecting 'Move to archive' you select 'Delete'.