This article is for administrators only.
What an administrator can set
Users are managed by the administrator in the Administration under the "Users" tab, where they can see a list of all users and their user accounts. The administrator can for each user:
Change the username (email)
Send or set a new password for a user
Change the assigned user license

Add new users

Delete users
How to change a username
Each user account is automatically linked to either an employee record or a contact record. You can see the first and last name on the user account header.

For each user, you can edit the email that serves as the username. Keep in mind that when you change a user's username, you must let them know so they can log in. Therefore, change the username only when absolutely necessary.
How to reset a password
For security reasons, even as an administrator, you cannot see or access the user's password. You can only change the user's password by:
Generate a new password automatically and send it to the user's email
Manually set a new password and communicate it to the user in another way
How to change a user license
You can assign each user one of three types of user licenses (office user, intranet user, or guest). You can change user licenses up to the number you have purchased in your subscription. If you exceed the number of licenses you have purchased, the system will guide you through the purchase process.
You can also leave a user without an assigned license. If a user does not have an assigned license, they will not log in to the system. You can use this option when you do not want to delete a user, but you either do not want them to log in (for example, an employee you have terminated) or you do not want to pay for licenses anymore.
How to create a new user

As an Aptien administrator, you can create a new user at any time. You can invite a colleague in the Administration, where you can find the "Add user" button in the "Users" section. If you need to add more users, use the "Add multiple users" option.
A user is always connected to a specific contact person - an entry either in the Employees Organizer or in the Contacts Organizer.
You create a user as an employee of your organization or as a person who works outside your company (customer, business partner). For a regular employee, you must have a record created in the Employees Organizer, for a person outside your organization, you must have a record created in the Contacts Organizer. The new user will be linked to this employee/contact.

You then choose whether the newly invited user is your employee, business partner, or guest.
Enter the name of the employee (Aptien gives you options from the list of employees). Then his/her first name, last name, and email will be filled in based on your Employee record. Next, assign the new user a role (i.e., a set of permissions in terms of accessing and working with data in Aptien) or permissions to access individual Organizers.
Once the user is saved, Aptien will automatically send an invitation email to the new user (if you want to add email text, you will enter it within the user details). You can cancel the email invitation option in the "Invite user by email" field. In this case, the user password can be managed by the administrator.
You can create as many users as you have purchased within the license.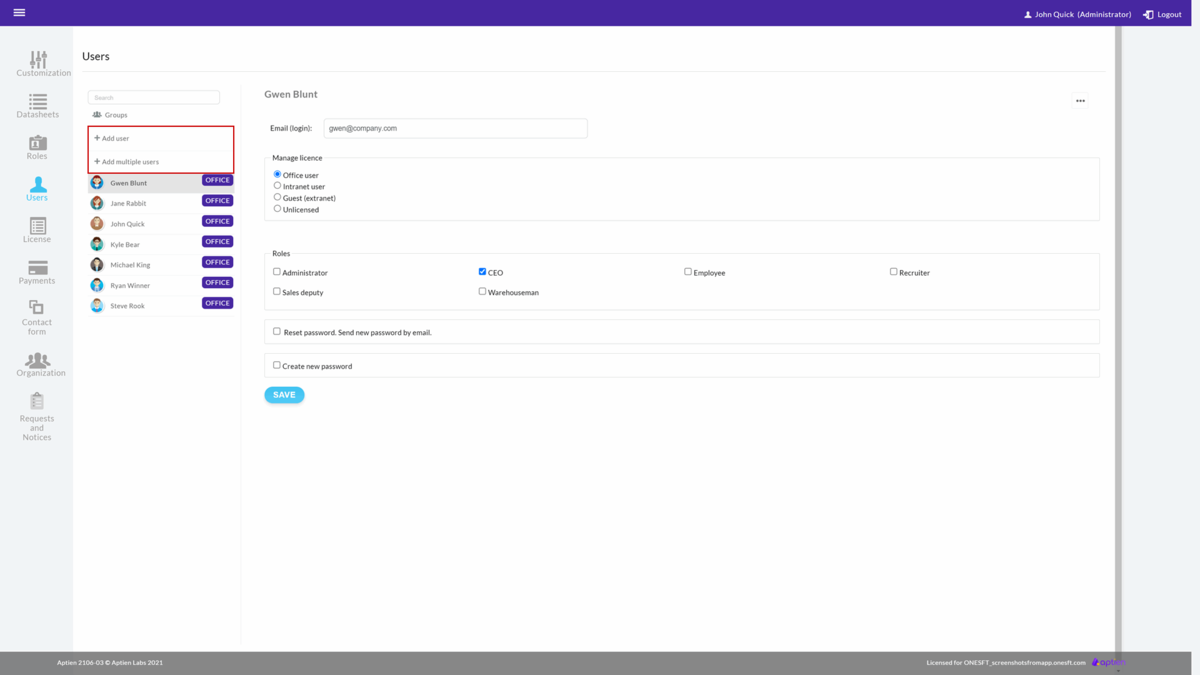 How to delete a user
As an administrator, you can delete a user. Again, this can be done in the "Administration" section and under the "Users" tab. Select the user account to delete in the top right corner under the three horizontal dots icon.