This article is intended for HR managers and people responsible for training, education, and development of employees.
Planning employee training
Employee training and personal development are a necessity these days. This is either due to the personal development of people in companies or to meet the obligations in employee qualifications imposed by law or market requirements. Aptien makes the coordination of employee training and development easier by helping you plan and confirm all employee training activities.
Setting up a training plan for each employee

confirming the completion of training activities

Training and education plan for each employee
You can create a training plan for different jobs or for each employee individually. When you create your training plan, you set up individual training sessions in one of three options:
Individual training only for a selected employee



training for all employees in the selected position
training for all employees
When setting up training, you also select whether it is one-off training, a course, or whether it is recurring training for which the system automatically monitors the recurrence and notifies you when the period is completed.
One-off training



Periodic training
A clear annual training plan for all employees
The annual outlook gives you an overview of who needs to attend what and when. What training or courses he/she has to attend. The overview shows all activities in the next 12 months. You can export the overview to an excel spreadsheet and work with it further.


Confirmation of completion of training and educational activities
Once the training plan is set up, you can confirm the completion of the training activity for each employee, i.e. that the employee has completed the training. When confirming, you can comment on how and where and you can also attach proof of completion.
This is typically a scanned confirmation or certificate of completion of training. In addition, the document will be automatically filed in the employee's personal file where it will be available to you.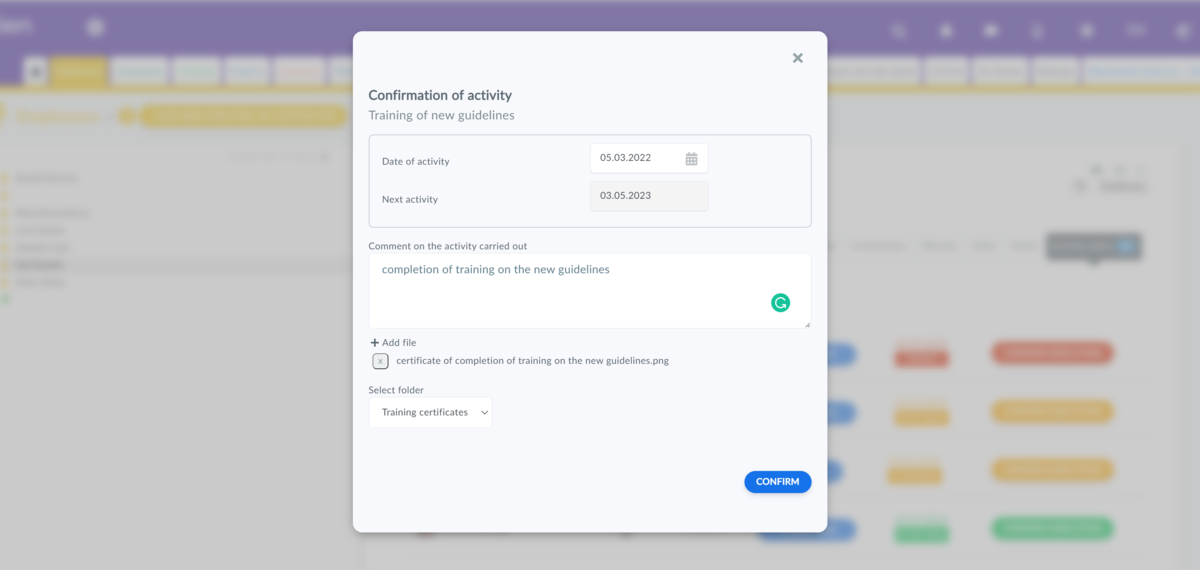 What the employee training plans will do
Automatic monitoring of periodic training - The system takes care of automatic reminders for supervisors and employees when training needs to be repeated. This frees your hands from tedious excel tracking.
Creating individual training plans
Confirmation of completed training
Keep a clear annual training plan
Learn the steps how to create an employee training plan here.