The back office (back end office) is a designation for business processes which are focused on operation and handling all tasks necessary to keep a company functioning. In other words back office is covering support processes of a company. Its goals is to support employees and improve the efficiency of the company.
Traditional arrangement is there are three distinct areas of business processes, and the back office is one of them.

Front office

means all processes where customers could interact with sales staff and others

Production

(or

core business

) means all processes where the product is made

Back office

covers all processes that help to keep the first two sections in perfect working order

A back office is likely to include the foundation for the performance and effectiveness of the overall company structure, all company departments. Back-office basically consists of these parts:
Human resources

is responsible for all employee-related processes - the relationship between the company and each employee, hiring process, onboarding and offboarding procedures.

Information technology

is responsible for information, data , technologies and telecommunications operating within the company.

Compliance, Risks and Governance

is responsible for the management and compliance of processes with legal requirements, and stakeholder interests.

Facility, asset and equipment

management is responsible for company properties and technologies and its maintenance.


Financial and accounting

is responsible for accurately recording the financial transactions that take place as the ongoing operation of the business.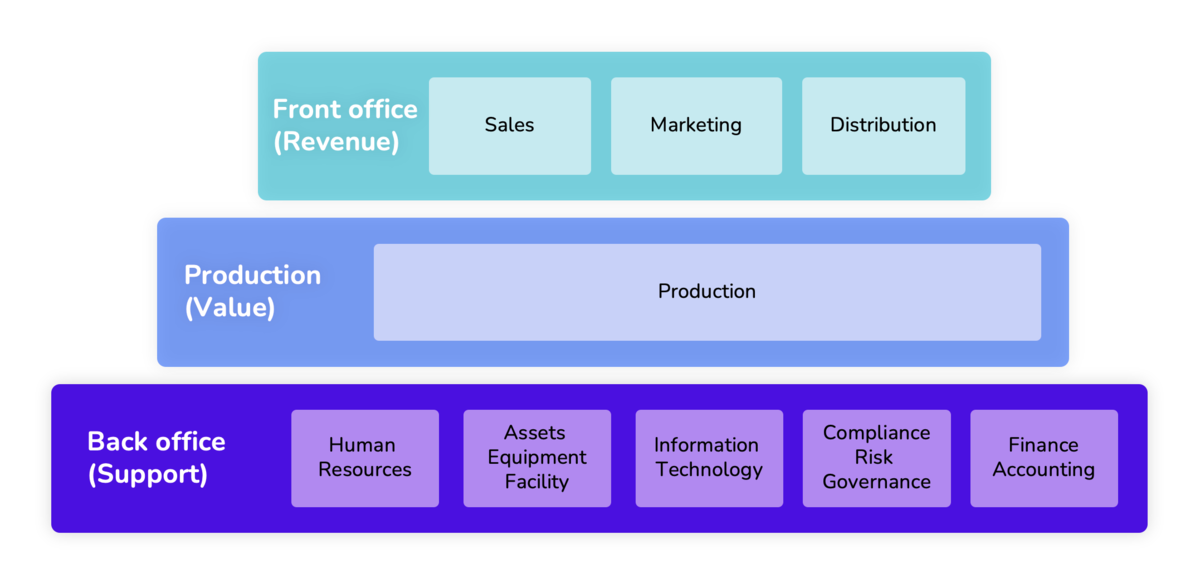 Who is responsible for back end office
Who is responsible for the back office varies according to the size of the company
in small companies it is the responsibility on the founder, CEO, or general assistant

medium companies have an office manager, and the responsibility can be split between HR manager, IT manager and facility manager

large companies have a back office manager, COO or sometimes the responsibility is under CFO supervision
Examples of back-office jobs
Every company's back office looks different and the job can vary depending on the size of the company and the industry. Here are some examples of back-office jobs, with basic information about their primary responsibilities.
Office manager



COO Chief operating officer
HR professional
IT manager
Facility manager
Compliance manager
Accountant
Security manager
Risk manager
Assistant