What is and what does offboarding an employee involve
Employee offboarding is the whole process of leaving, when an employee or employer terminates the employment and the employee leaves the organization. The offboarding includes everything from job transfer, knowledge transfer to formal termination of employment.
Completion of the work and tasks assigned
Handing over the work and tasks to successors or other employees
Handing over functions and responsibilities, authority to successors or other employees
Return of work equipment, property, tools, or other items
Passing on or changing passwords, keys, access cards
Changing access to company systems, email, etc.
Exit interview upon the termination of employment
Exit questionnaire
Resolution of leave, severance
Formal documents (exit letter, income certificate - pink slip/P45, etc.)
Transfer of work
Knowledge transfer is incremental or one-off, remember that some knowledge cannot be transferred in units of hours or days
Transfer of agenda, processes, tasks
Completion and handover of work - assumption of duties, responsibilities and authority
Onboarding training
Changing passwords, handing over access cards and keys
Security issues
All IT systems where the employee had access, especially cloud services, VPN, access to shared storage
Returning keys, access cards, PINs, etc.
List of activities that must be carried out when the employee leaves
It is important that the company has a list of all the activities that must be carried out when an employee leaves. In Aptien you can easily create your own plan of activities for the employee's departure.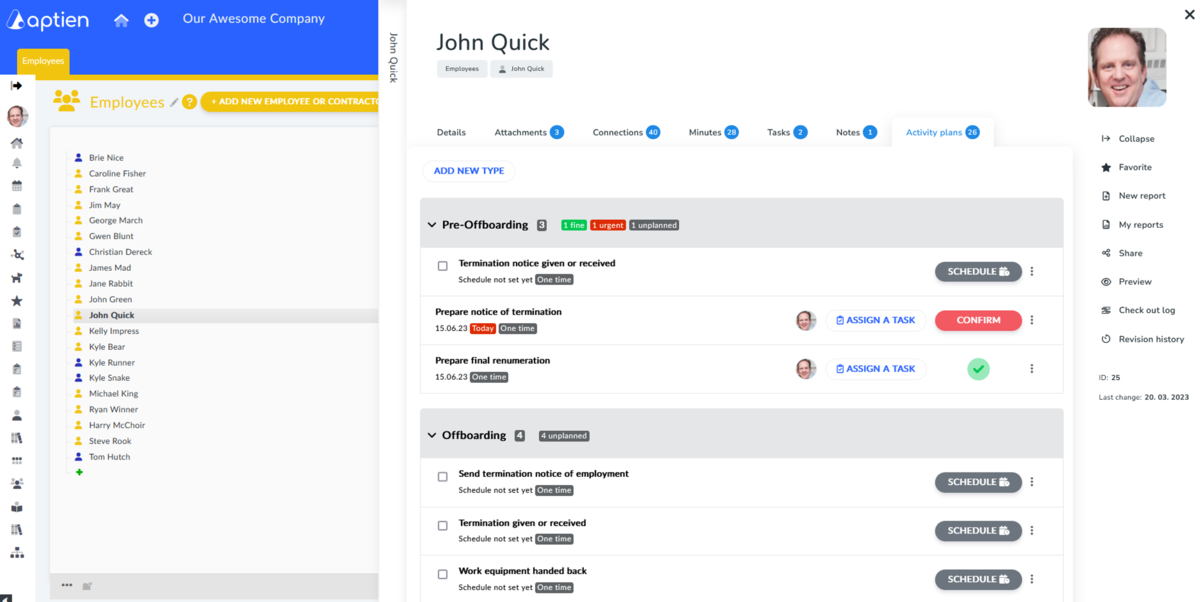 Why is employee offboarding important?
Managed employee offboarding is key to maintaining the continuity of your organization's operations, it is important from a security perspective and it is important to maintain your organization's reputation. It's a complete process, not just a completed checklist at the front desk. The role of the senior manager and mutual cooperation is important. Good communication prevents the spread of half-truths and speculation.