Handover of work equipment using a digital checkout form

The digital handover allows you to hand over, checkout or entrust any item to an employee. Typically the work equipment, tools or other property. However, you can hand over anything that you keep in Aptien. The employee confirms the receipt by signing on the screen of mobile phone and sees what has been issued to them in their about me home screen. The person responsible for the property can see where the piece of property is.
You can also use the digital handover report to load or unload an item from a storage or place.
Handover process always needs two people:
Responsible person

- is the person who is responsible for the handing over. These are Aptien users who has permission to do this, they see the handover button. They have to be logged into the system.

Receiving or confirming person

- is the person who confirms that the item has been handed over to them. He or she does not have to be logged into the system at the checkout time, just confirms (by signing) on the screen that it has happened.
How the handover process works
The responsible person logs into Aptien



The the object to be handed over (for example, a computer) for which a handover button appears


The employee takes the item and confirms it on the display of the phone with the signature

Employee sees in his about me homescreen in the portal what was handed over and when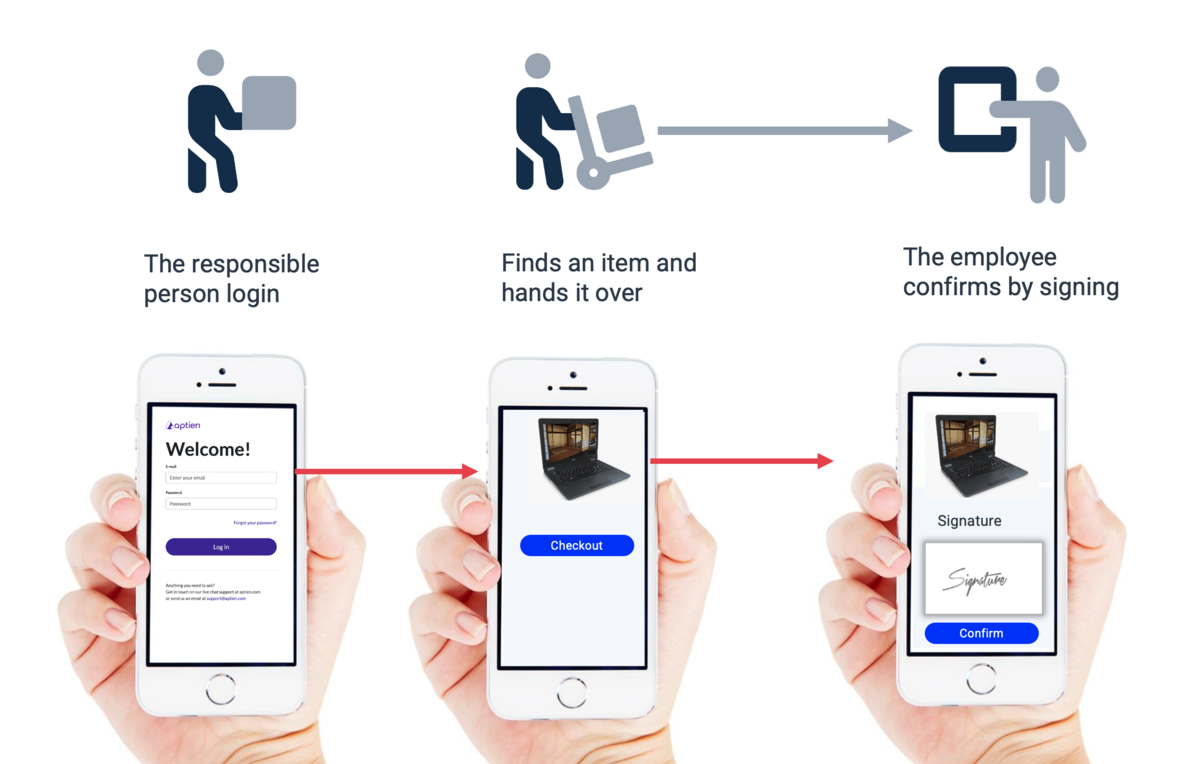 To whom or where you can transfer
With digital handover protocols, you can either hand over or entrust something to other employees, service technicians, etc. The other person must be an Aptien user. Or you can hand over to a location, such as a room, a cabinet, a depot, a company branch - in short, anything you specify.
Summary of digital handover process
The handover button is show in organizers with the subject of handover. So, for example, the button for computers is in the computer organizer.
To run handover process (over the button) is allowed for authorised person only (authorised role), set by the administrator
Only the authorised person can then run the handover process
The employee then confirms the handover by signing on the screen or just by confirming using the button
To run the digital handover, use the action button