These changes can be made by the administrator only.

How to change unit settings
The settings for units can be set up for the whole company in the "Administrate" section so that they reflect the format your company is using.
You can set up:
Unit dials - list of units used and offered

Default unit values used in your company
How to set up units
You have multiple unit dials available. You can fully customize the basic dial according to your business needs. The other dials are system dials. They are fixed, and you cannot change or add units stored in them. However, you can decide not to use a specific unit in your company, and you can stop offering it to users (deactivate it). You can find out how to do this later in this article. The following units are already in the system:
Basic dial (default units) - your company dial. You can customize and add any units to it.

Currency dial - a list of all world currencies

Length

Area

Volume

Weight

Temperature

Consumption

Time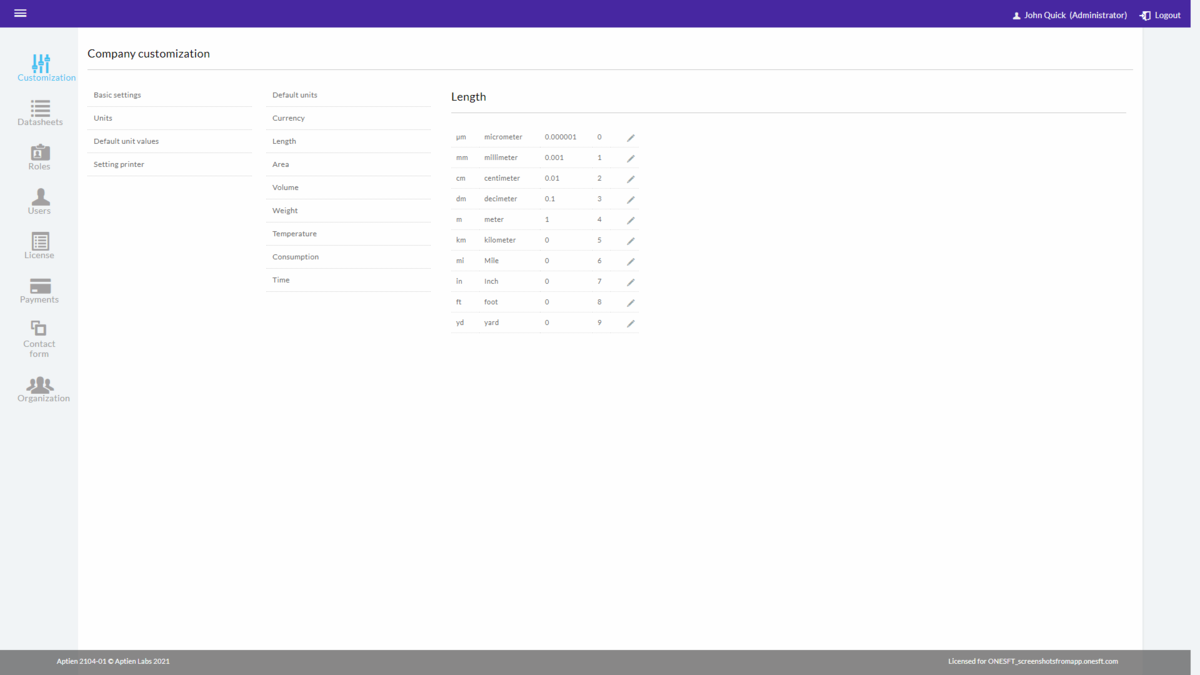 The Basic dial is yours
The Basic dial (default units) is yours, and you can fully customize it. It contains only basic units that are not part of other code lists. Its advantage is that you can customize it and add additional units that reflect your company's needs. You can access the unit settings by clicking on "Administrate" and then clicking "Default units" in the "Customization" tab. You will see a list of already available units which you can add or customize. For each unit, you can set whether the unit appears before or after the number.
How to add a unit to the Basic dial
In the unit settings menu, select "Default units" and select "Add Unit".
Symbol - the basic symbol that you set for the unit. You can use any symbol, but "tis CZK" is mandatory
Custom Symbol (language) - is optional. It is set up for each language separately. If you set it up, users will see it in the given language instead of a symbol, such as "tisic Korun ceskych" for the Czech language and "thousands of Czech crowns" for the English language
CS: Additional text - a designation for the Czech language
EN: Additional text – a designation for the English language
Coefficient (will be used for recalculations, not set yet)
Unit dials
The unit dials are fixed and contain set units according to international formats. These are currency, length, area, volume, weight, temperature, fuel consumption, and time dials. As an Administrator, you cannot delete individual values, but you can either deactivate them or adjust the data to what your company is used to.
You can set the symbol (designation, abbreviation) you typically use in your company or your country for that unit (Custom Symbol). The system will then display this symbol to users instead of the standard symbol. For example, for currencies, you can change the basic CZK symbol and display it as a Custom symbol "Kc". Be careful. We strongly do not recommend changing the unit's meaning, only adjusting it to your company's usual abbreviation.
You can deactivate the selected unit, and it will not be offered to your users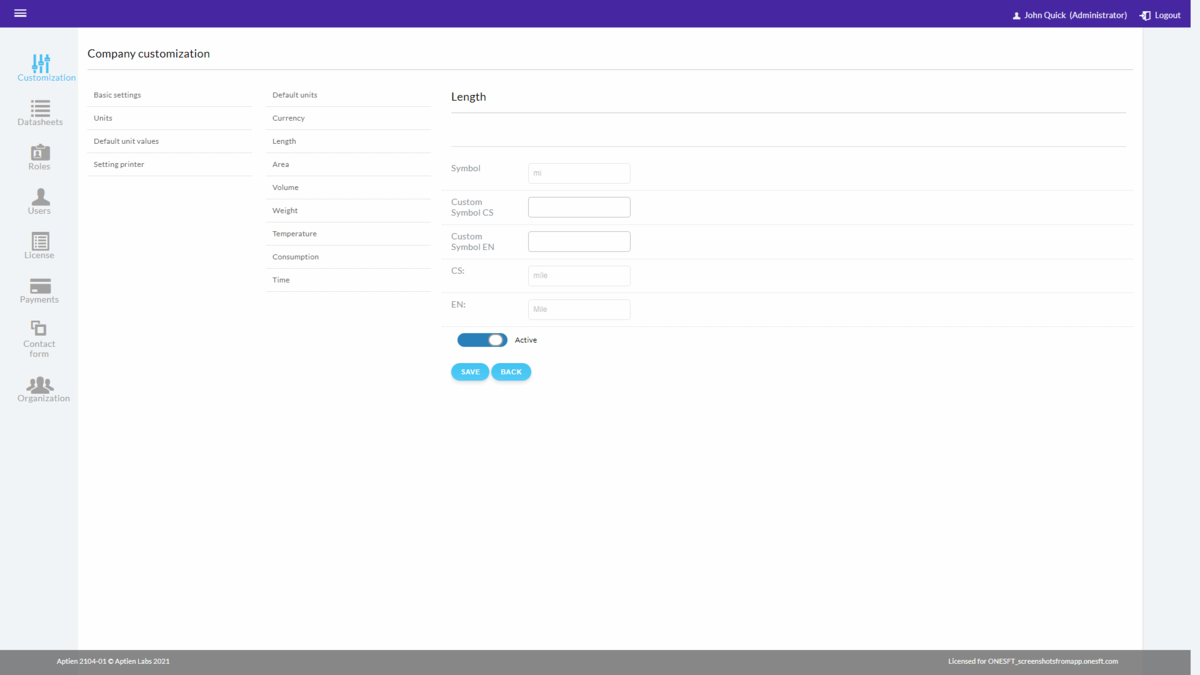 Set default units for your business
As an Administrator, you also have the option to set up default units for your company.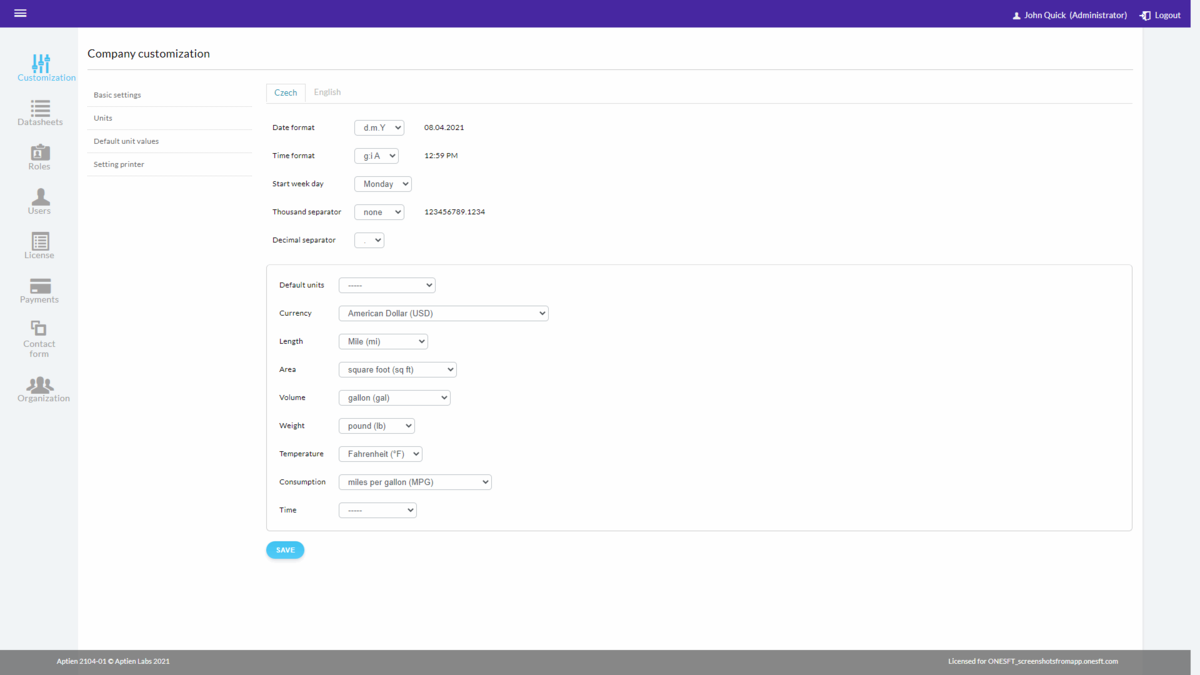 How to change settings for separating thousands or separating decimal places
If the selected thousand or decimal separator setup does not match the format you use in your company, do the following. Go to the "Administrate" section, and then in the "Customization" tab, you can change the thousands separator and decimal separator. It is important to have the right language chosen to see the changes. For the thousands separator, you have a choice of space, comma, or period, or not to have any separator. For a decimal separator, you can choose between a period, comma, or slash. You can immediately see the changes next to the thousands separator. After saving, the system will immediately reflect the changes in your already filled-out details throughout the system and all Organizers.