Reporting defects or problems on property
A whole range of faults, breakdowns, problems, accidents and other incidents take place at workplaces, the company should be in control of their solutions. In order for someone to address and remove them, the company needs to have a reporting and documentation process in place.
How employees report a property defect
Aptien offers a simple helpdesk where employees can report individual defects and attach, for example, photo documentation to them. As a logged-in user, you can find the forms in the left menu under the "Requests and reports" tab. Here, select the form for reporting a property defect, fill it out and confirm by clicking "Create".
The report is automatically linked to the user who creates it
The worker can attach photos to the report and attach them as part of the report directly from their mobile phone
They can thus easily, directly at the workplace, enter the background information on the situation that is needed to solve or investigate the defect.
The report form is automatically sent to the responsible people in your company for approval or notification, and you will receive a notification in your inbox as soon as it is processed.
Until the report is closed, you can use it to add comments and refine the information.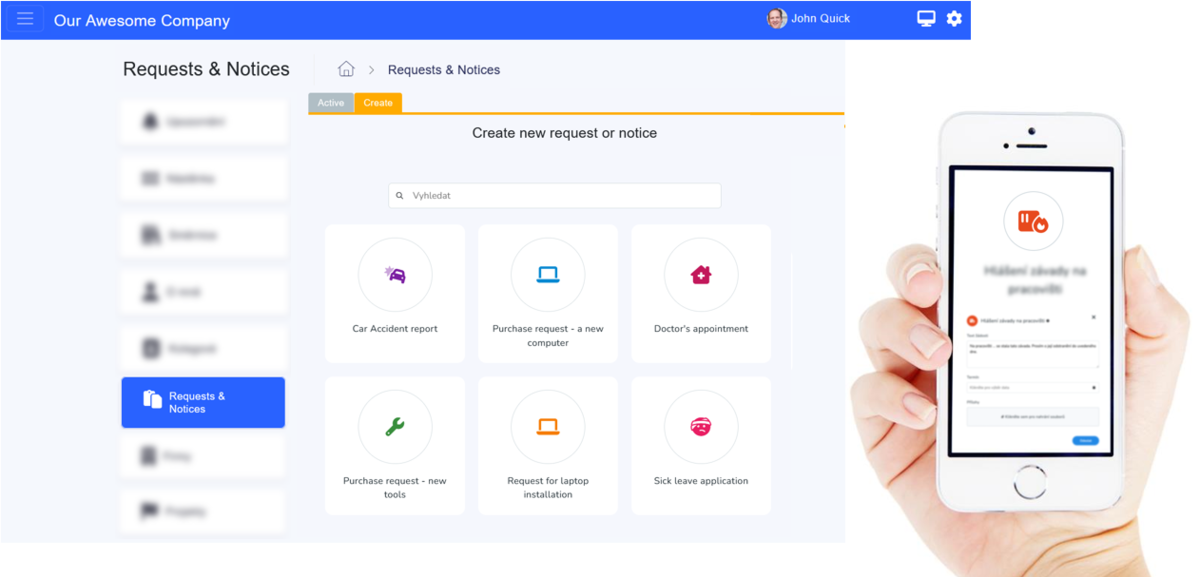 You can easily edit the defects report form
A business can create almost any breakdown, failure, problem or other incident reporting form it needs. Reports are available to all employees in the company who have access to the intranet.
Your administrator can create any report using a simple interface
It can name the forms according to your company's custom
Can set the approver or responsible person to whom the form is directed